With Apple discontinuing iPods, what are the alternatives?
Apple is abandoning its traditional iPods because most people with smartphones now use them for everything. However, many current smartphones – including Apple's – don't have FM, and none has a DAB radio.
Worse, smartphones need regular app updates and sometimes annual operating system upgrades. You also get loads of annoying notifications. It's not like buying an MP3 player that will work unchanged for a decade or more, until the battery no longer holds a charge.
Buy a Nano?
I usually take the view that "if it ain't broke, don't fix it". If the iPod works well for you, why not buy another, or get a price for fixing your broken one? I thought the fifth-generation iPod Nano (2009) was the best version, before Apple dropped the physical controls for a touch screen, but you can still buy a seventh-generation Nano with FM radio for £149, from Argos and other stores.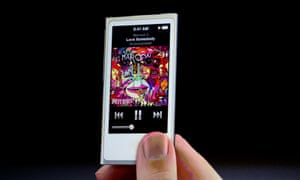 Note that the latest 2015 Nano looks identical to the seventh-generation 2012 version, it just comes in fewer colours. However, the newer model requires a newer operating system: Mac OS X 10.6.8 or later, or Microsoft Windows 7 or later.
While Apple isn't making any more Nanos, existing devices will continue to work. In fact, they work exactly like other MP3 players: you download files to your PC using software such as Apple iTunes and Audible Manager, then transfer them to the portable device.
Alternative MP3 players
Apple extended the Nano's life by adding features such as a photo library, video playback and some "fitness" features, such as a pedometer. In other words, if you buy a Nano, most of the money pays for features you don't want. It would be much cheaper to buy a traditional MP3 player with basic audio functionality – including, of course, FM radio. Many of these players look like knock-offs of the fifth-generation Nano. They won't be as well made, but they are so cheap that you won't lose much by getting it wrong.
For example, you could buy a 16GB HccToo Music Player on Amazon for £18.98, saving £30 off the "list price" and £130 off the cost of a Nano. I'd never heard of this machine, but it's the #1 Best Seller on Amazon.co.uk, so you can browse the 639 customer reviews. Music buffs will appreciate its ability to play MP3, WMA, FLAC, APE, AAC, OGG and (for speech) ACELP files. The Nano can only handle two of those.
There's also a 32GB version of the HccToo for £26.98. This is better value, but you don't really need the extra storage space.
What would stop me from buying an HccToo is its lack of an SD card slot. I use SD Cards on my desktop (via an Anker USB3 adaptor), three laptops, a Roland Edirol digital recorder, a DSLR and several compact cameras. They are a handy way to move a lot of data around. The 8GB Kubik Evo (£26.90) might do, but it only supports SD cards up to 8GB. However, there are plenty of alternatives that support larger cards. Examples include the 8GB AGPtek M07, which can handle up to 128GB, and the AGPtek Rocker (no FM!), up to 256GB.
You may also like...