Joe Root's meticulous approach pays early Ashes dividends for England
Joe Root may never be able to sport a beard as thick as the one that led to Mike Brearley being dubbed the Ayatollah during the 1978-79 Ashes but when it comes to assessing his first experience of captaining England in Australia, some encouraging growth can be reported.
It was a hard-fought second day here, with the absorbing wrestle for control continuing to unfold and belie predictions of the cricket being one-way traffic on Vulture Street. Root's fingerprints could be found on much of what was good about England's performance.
His ascendancy to the captaincy at the start of the year had brought with it an element of the unknown. Though much of the talk was of him being proactive and aggressive, it felt based on the assumption that his personality and batting style would simply translate across.
After all, and in keeping with the modern way, Root was light on prior domestic experience at Yorkshire. It was always going to be a case of learning on the job, with seven home Tests in just over eight weeks a short, sharp cramming session before the examination of an away Ashes tour.
But, like his returns with willow in hand, the end result appears to be as much about his meticulous approach to preparation as a good eye, with plenty of time before this series spent bunkered down with Shane Bond, England's short-term bowling consultant, the pair poring over the statistics and wagon wheels in the search for frailties.
Developing strategies for each member of an opposition is hardly revolutionary in itself, but when such work bears fruit – as could be seen in the Australian wickets claimed on the second day – it is worth tipping the hat to the brains trust behind it.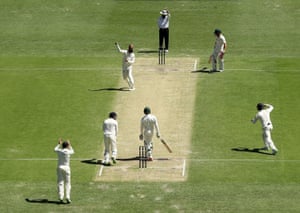 Take the dismissal of Usman Khawaja, a batsman so home and away in terms of his Test returns he could easily be nicknamed Alf Stewart. When Cameron Bancroft, the debutant opener, nicked off to Stuart Broad in the fourth over, Root wasted little time – and cared not for the fleeting shine of the Kookaburra ball – before introducing Moeen Ali into the attack.
Khawaja is a dominant force on Australian soil when taking on the quicks. But an achilles heel against the spinners, one that means he is not trusted in the subcontinent, was identified by England and when Moeen ripped his first ball to the left‑hander past the outside edge, before trapping him plumb lbw next up, it was as much a win for the captain as the bowler.
David Warner, meanwhile, was being starved of the strike, with his favoured brawny cut reduced to a shot for one by a sweeper in the deep. Though it may have appeared a negative move by Root, it preyed on ego and in attempting to force a short-arm pull off Jake Ball, the aggressive opener could only pick out Dawid Malan stationed at midwicket.
You may also like...